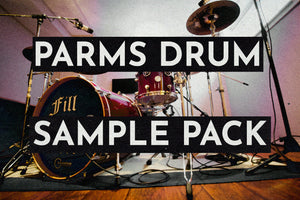 Parms Drum Sample Pack
Sale price Price $30.00 Regular price Unit price / per
These are my "go-to" samples that I've layered and created myself. They are PRE-MIXED, taken directly out of my sessions. So you shouldn't have to do much with them; maybe some EQ, or gating, depending on how much sustain you want. There are some samples that I use that I'm not allowed to sell, so I didn't include those.
I priced it at $30.00 CAD because I didn't include velocities or many articulations, so this pack is for those that record and mix modern sounding rock music, and can manually add in any rolls or ghost notes with other samples. The ones included in this pack are heavily processed, so look out - they'll take your head off.
Shoot me an email at fillthevoidstudios@gmail.com if you need assistance!
In the zip, you'll find:
- 5 kick samples
- 15 stereo snare samples (your snare will no longer sound like garbage)
- 4 stereo tom samples
All in 24-bit 44.1khz, .WAV format.

Here's a couple of examples of these samples in action: